Frequently asked questions
Why made-to-order?

The made-to-order model allows us to avoid overproduction and reduce our environmental impact. By producing items only when ordered, we minimize waste and excess inventory. This sustainable approach helps to conserve resources and reduces our carbon footprint. We take pride in being a responsible brand that strives to leave a positive impact on the planet. It takes us between 4 and 6 weeks to produce and ship your products. If you are in a hurry, there are plenty of options catering that need. We do not think our planet needs yet another mass-producing equestrian brand.
Why do you manufacture in Finland?

We are proud to produce our made-to-measure breeches in Finland. Finland has a long-standing tradition of high-quality craftsmanship and technical expertise. Our dedicated team of equestrian professionals ensures that every detail is meticulously executed to meet the highest standards. By manufacturing locally, we have full insight over the supply chain and can sleep knowing that the people in our factory does too. By having the production nearby we have better control over the quality of our products, and we know who was involved in the supply chain.
Why made-to-measure?

Off-the-rack breeches are in the majority of the cases mass-produced, and fail to accommodate the individual variations in body shape and size. Made-to-measure breeches, on the other hand, provide a personalized fit that enhances comfort, freedom of movement, and overall performance. When you provide your unique measurements, we create breeches made to fit your unique physique.
How does it work?

Step 1: Measure Up
Begin by taking accurate measurements:

Height
Waist: Measure around the narrowest part, just a few centimeters above your belly button.
Hips: Measure around the broadest part.
Inseam: Start at the crotch and follow the inside of your leg down to the ankle.

Step 2: Define Your Preference
Determine if you want maximum support (our compression collection) or maximum flexibility (our flex collection). Decide between half-seat or full-seat breeches. Our Freetime breeches are ideal for stable work or as a staple in your business casual collection. For a limited time we also offer a merino wool enhanced version, suitable for cold weather.

Step 3: Make Your Selection
Choose your product and then pick the nearest size from the dropdown. If your measurement falls between two sizes, like 70.7, we suggest rounding down to 70 for a snug fit or up to 71 for a slightly relaxed fit. Women should also consider their menstrual cycle, as measurements like waist size might vary depending on the time of month. That's why we ask about what size you normally wear.

Step 4: Checkout
Finalize your selections and proceed to checkout.

Step 5: Craftsmanship & Shipping
Upon receiving your order confirmation, we'll begin crafting your breeches. This process typically takes 4-6 weeks based on order volume. As soon as your breeches are ready and handed over to the carrier, you'll receive a delivery notification with tracking details.

Step 6: Enjoy Your Breeches
When your breeches arrive, inspect them, and try them on. Make sure that they fit correctly before getting on top of your horse. Nine out of ten of our breeches fit perfectly from the start, however, if yours do not live up to your expectations we are more than happy to talk to you and find a solution. We offer a 14 day exchange/modification guarantee on our made-to-measure products as long as they haven't been used in a riding situation. We'd love to hear your feedback!
Affiliate programme
We are building a community of partners who are passionate about riding, horses, and slow fashion made in Finland. We are open to discuss different types of collaborations, if you have an idea, lets here it and find a way to make it work. We are the professional equestrian-led, sustainably minded, Finnish company that designs and manufactures stylish, made-to-measure riding breeches that help serious riders ride better.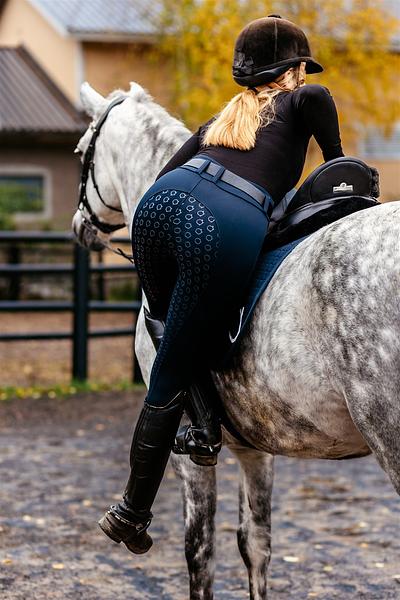 Partnership opportunities
Affiliate marketing
Content creation
Usage rights
Additional opportunities
Campaigns
Discount codes