Henna Stockås achieved much successas a professional competitive equestrian.But something didn't fit.
At Stockås, we are on a mission to empower equestrians by outfitting them with a tool that will help them to perform at their very best. That tool is a pair of riding breeches and they are a must for all serious riders. The only problem is, not all riding breeches are created equally. Henna Stockås knows this all too well from her years as a former rider for Equestrian Team Finland and as a current owner of an equestrian centre. Her personal experience inspired her vision to design and make, in Finland, technically advanced breeches. Simply put, Henna wants to create the world's best-fitting made-to-measure riding pants. Like all riding breeches, style will certainly play a part too. But at Stockås, style has a lot more substance.

At Stockås we believe that a better fit equates to a better ride, and that a superior riding experience should offer both comfort and the ability to move freely without distractions – the very foundation of a perfect ride. We are committed to ethical sourcing and sustainable manufacturing practices, and to utilising only premium, eco-friendly materials and innovative technologies that minimise our environmental impact. Our unique personalised fitting approach and attention to detail are a perfect fit for serious equestrians who want to achieve their best ride. Our dedicated customer service builds strong relationships with our community of professional riders and serious hobbyists. And we strive to meet their evolving needs by continuously improving our products. 

With our strong, quality-focused Finnish heritage and Henna Stockås' personal experience as a professional competitive rider, we are proud to represent the best in equestrian apparel and to restore responsible manufacturing practices in Finland.
Wall of Fame
To honor the equestrians who have greatly contributed to our journey thus far, we express our deep gratitude for your invaluable input in shaping our brand. You made this possible:

Annika Krappe, Isabella Emilsson, Lena Karlsson, Caroline Högberg, Alva Öhman Larsson, Lovisa Högberg, Bruno Ekelund, Hannah Strandh, Felicia Erlandsson, Annah Ahlbäck, Gunn Falk, Anna Simonsson, Tilda Sandin, Wilma Elmner, Sini Lammivaara, Linna Felix, Anna Öhman, Emilia Öhman, Vendela Vedin, Philippa Ziesig, Julia Brunnebo, Hedvig Norlén, Lotta Reistad, Alinde Gren, Iris Hjalmarsdottir, Kajsa Jonsson, Nellie Nordin, Susanne Schiller, Hanna Godhe, Jessica Markus, Alice Lindh, Catrin Fahlström, Alma Svedberg, Anna Kjärsgaard, Miranda Kjärsgaard, Benita Lindh, Emelie Johansson, Vera Carlen, Tilda Westlund, Marlene Agélii Lenegård, Veronica Ahl, Eva Gezelius, Carita Åberg, Inka Saarnio, Emma Sarvi, Johanna Sarvi, Sanna Ylänne, Johanna Oliveira, Elina Albertsson, Anna Laksio, Janniina Nikku, Elina Pohjalainen, Johanna Palviainen, Eeva Ervamaa, Sanna Rannikko, Päivi Soljala, Meri Kahala, Riikka Hyvärinen, Jenna Hakkarainen, Vilma Laakso, Kiia Koistinen, Veera Laakso, Niina Ikola, Kati Moilanen, Matilda Karppinen, Marjaana Salonen, Pilvi Routasalo, Terhi Lehtinen, Minna Tervo, Helena Reinvall, Minna Pakkanen, Jenni Vattulainen, Helena Viitala, Ida-Sofia Virlander, Thelma Ljungberg, Paula Wertheim, Elida Ratila, Taika Järvelä, Roosa Ilvonsalo, Ella Korhonen, Aletta Nissinen, Siiri Vehviläinen, Vilja Vienola, vappu vanhanen, Emma Tiitinen, Maria Ehrnrooth, Elsa Heinonen, Adessa Löija, Suvi Ruuskanen, Vanessa Tolvanen, Jarno Räsänen, Laura Ahjoharju, Helmi Nisumäki, Jenna Kulmala, Hanna Pitkänen, Salla Lapveteläinen, Veera Paukku, Vilma Irjala, Salla Madetoja, Disa Mattsson, Peppilotta Asklöf, Kitta Virolainen, Aino Reinikainen, Lilja Merimaa, Molly Granberg, Sara Suvanto, Viivi Korhonen, ida peltoniemi, Sanna Karhunen, Nella Mäyrä, Emilia Hyötylä, Marjut Koskipalo, Essi-Lotta Rautiainen, Niina Piippo, Satu Repo, Ritva Ruotsalainen, Riina Rajanti, Emilia Ikola, Henna Myllylahti, Iitu Tolonen, Freja Dahl-Lehikoinen, Pinja Leino, Roosaliina Huttunen, Johanna Kuivalainen, Sanni Foster, Mervi Eskelinen, Elina Koskenrouta, Saga Björlin, Minna Jutila, Senni Kyllönen, Iiri Karjalainen, Emilia Marttinen, Taija Niiranen, Katja Hynninen, Emmi Eronen, Jenni Syri, Mette-Ingrid Mölder, Jaana Karjalainen, Akseliina Wallenius, Ella Koskela, Anna Matilainen, Taru Laissaoui, Eva Grönqvist, Noomi Hepouro, Tuulia Loginova, Jaakko Aitta, Tiina Ovaskainen, Riina Salopelto, aamu siltakoski, Inga Kallioniemi, Emmi Tiilikainen, Hilma Kaiku, Meeri Koutala, Sonja Partanen, Sanna Pirinen, Anne Wallenius, Iira Hyytiäinen, Pirjo Weissenfelt, Anna Tuominen, Enni Eskelinen, moona tötterman, Sofia Paavola, Eerika Pitkänen, Tiina Suvanto, Ida Antikainen, Alisa Siipola, Karla Rasilainen, Miia Räsänen, Paula Sorjonen, Maiju Ahokas, Lilli Frondelius, Minna Kemppainen, Hildu Pentti, Nina Paloposki, Nora Toikkanen, Sirpa Patala, Tuuli Ahde, Lotta Vatanen, Laura Malinen, Taina Pennanen, Sanna Louna, Aino Ayo, Julianna Tiainen, Terhi Hakkarainen, Hanna Immonen, Elina Porkka, Merja Hirvonen, Anna Sizko, Johanna Saarni-Kantola, Saana Juuti, Sara Uusitalo, Merja Takanen, Salla Airaksinen, Milka Toivoniemi, Inkeri Dahlman, Maija Hausalo, Sanna Metsälä, Veera Nokipii-Laamanen, Siiri Pirkkalainen, Nannu Valkonen, Aada Syngelmä, Heidi Tanskanen, Kerttu Kiviluoto, Iida Haapakoski, Olivia Malkki, Ringa Tuikka, Julia Koivuniemi, Jonna Siikanen, Minna Ek, Erika Suominen, Nella Lätti, Siiri Reunanen, Minna Äikäs, Reetta Vuorio, Virve Mökipää, Pauliina Pääkkönen, Anne Turunen, Janette Gräsbeck, Elvi Siivinen, Ronja Piipponen, Maisa Hokkanen, Janette Taskinen, Emma Auvinen, Anni Vaara, Pirjo Arvola-Siltakoski, Pinja Nurminen, Tanja Kolari, Emmi Mäntylä, Cecilia Ahlroos, Julia Nordgren, Sonia Sundblad, Ilona Auvinen, Piitu Savolainen, Linda Uutela, Helvi Mikkonen, Josefiina Manninen, Karla Karotie, Lily Pyykkönen, Alina Sahlberg, Annika Lennartsson, Chiara Alloza Vergamini, Camilla Andreasson, Malin Bergkvist, Ninja Toivonen, Ella Nieminen, Riia Laine, Viola Elfving, Anu Lastumäki, Minna Kekäläinen, Riia Antikainen, Reetta Ahtonen, Katja Peltoniemi, Laura Leskinen, Ulla Järvinen, Olivia Apilo, Marjo Hakala, Linnea Leppä, Johanna Lappalainen, Leena Salin, Sanna Sierilä, Elin Weiner, Elin Knutar, Elina Leskelä...
Affiliate programme
We are building a community of partners who are passionate about riding, horses, and slow fashion made in Finland. We are open to discuss different types of collaborations, if you have an idea, lets here it and find a way to make it work. We are the professional equestrian-led, sustainably minded, Finnish company that designs and manufactures stylish, made-to-measure riding breeches that help serious riders ride better.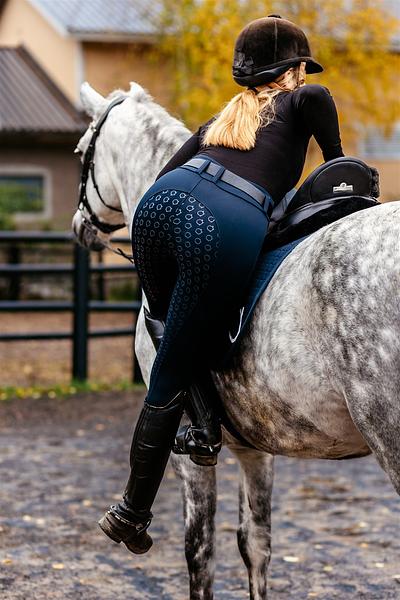 Partnership opportunities
Affiliate marketing
Content creation
Usage rights
Additional opportunities
Campaigns
Discount codes